Hospital Malpractice Lawyers in Weston
Rash Mueller Stands By "No Recovery, No Fee"
With 40+ years of collective legal experience, our law firm is known for our aggressive and results-oriented representation. Our extensive track record includes hundreds of millions of dollars in settlements for injured victims. We know what it takes to win, and we fight hard each and every time.
What Are the Most Common Medication Errors in Hospitals?
​When you visit the hospital for surgery or medical care, you are likely under the impression that you will be cared for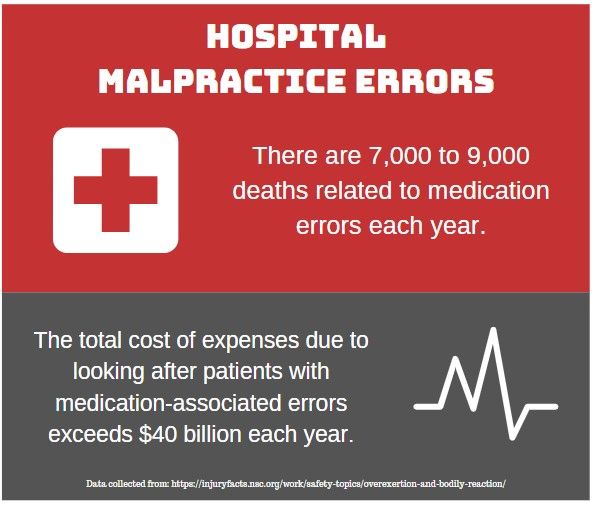 ​ professionally. According to the National Center for Biotechnology Information database, there are 7,000 to 9,000 deaths related to medication errors each year. The total cost of expenses due to looking after patients with medication-associated errors exceeds $40 billion each year.
Some of the 8 most common types of medication errors include:
Unauthorized drugs
Transcription errors
Prescribing errors
Dispensing errors
Administering errors
Monitoring errors
Improper dosage

Repackaging errors
At Rash Mueller, we represent clients who have developed an illness, sustained an injury, or suffered a wrongful death as a result of hospital malpractice. We understand just how devastating this can be for you and your family, especially after you trusted the doctors, nurses, and medical practitioners to ensure your safety. Find out if your hospital malpractice case is eligible for compensation by speaking with our firm.
Put an Experienced Legal Team in Your Corner
Trying to bring a lawsuit against a surgeon, nurse, doctor, or members of medical staff at the hospital you visited can be very difficult on your own. Hospitals and medical professionals have access to powerful defense teams who will try to deny or avoid liability. As a victim of medical negligence, having a skilled malpractice team on your side can help you even the playing field and maximize your chances of a favorable result.
We handle a variety of hospital malpractice cases, including:
Victims of such negligence often suffer from a huge financial burden. With a successful claim, you will be able to receive compensation for medical expenses, pain and suffering, and lost wages. Our team can work with leading financial and medical experts to help you estimate what your claim may be worth. If your case requires litigation, you can trust our Weston hospital malpractice attorney to aggressively litigate on your behalf.
Call our office at (954) 914-7116 today to schedule a free consultation with a member of our firm!
Hundreds of Millions Won on Behalf of Our Clients
Class Action Case $4,000,000,000

Helped in litigating landmark tobacco class action case in Miami.

Trucking Crash Case $14,000,000

Medical Malpractice $19,500,000

Medical malpractice case brought by a 53-year-old man against a surgery center and doctor for improper discharge after cervical fusion resulting in catastrophic injury.

BP Oil Spill Damages $15,000,000

Recovered for businesses and individuals who were damaged by the BP Oil Spill.

Maritime Claim $9,000,000

Cruise line crew member injury case.

Railroad Injury Case $3,500,000

Railroad locomotive engineer injury case.

Maritime Claim $3,475,000

Confidential settlement for a 38-year-old Chief Stewardess on a 112' superyacht that injured her back lifting a jet ski necessitating two back surgeries, the first one botched by a doctor selected by the vessel owners.

Medical Malpractice $2,500,000

Recovered settlement for mother who died from cervical cancer due to negligence of laboratory and doctor, both of whom misinterpreted and misreported biopsy specimen as benign when it was actually cancerous. The settlement is significantly more than arbitration damage caps for medical malpractice cases in the state.

Maritime Claims $2,200,000

Settlement in a cruise line crew member wrongful death case.

Medical Malpractice $2,000,000

Medical malpractice case brought on behalf of a 73-year-old woman against the hospital and intensive care doctors who misdiagnosed and failed to timely diagnose her encephalitis resulting in brain damage.
Fighting Beside You
Read Our 5-Star Reviews
My case was complicated to move forward due to other reasons..but she ain't never let me down when speaking to her! - Adrian B.

I so appreciate their kindness, genuine compassion, and "got my back" attitude. - Joel F.

He's a good guy and very very good at what he does! - Jordan

e was a godsend to us in a time of extreme duress. If you are looking for an excellent attorney, look no further. 5 STARS! - Mindy A.

Highly recommended. They are professional, accommodating, and great with communication. - Brandon
Put Over 30 Years of Experience on Your Side
We Provide Free Consultations

Personalized Attention & Care

40 + Years of Collective Experience

Track Record Of Success